KDK Newsletter Schedule, Winter 2017 - Spring 2018





Thanksgiving Celebration at KDK Thanksgiving Celebration at KDK

Thursday, Nov. 23rd
Lama Lodu Rinpoche & KDK Lamas
KDK, 1892 Fell St, San Francisco
The Kagyu Droden Kunchab Buddhist Dharma Center, the spiritual director Lama Lodu Rinpoche and all the KDK lamas would like to welcome all of the students to the Thanksgiving celebration. We will provide tea and a good lunch. There will be food available no matter what your diet, but if you'd like to bring any particular dish you are more than welcome to bring it and share with everyone. We will meditate on the Bodhisattva Avalokitesvara, the one who represents all of the Buddha's compassion and wisdom. Being that we are Buddhist Mahayana followers, this is the way we contribute to benefit sentient beings through cultivating the Bodhicitta and visualizing Avalokitesvara Bodhisattva and reciting mantra, and then dedicating the merit to all of these beings. This is the special occasion where many beings lose their lives, and by accumulating merit and wisdom in this way, we benefit those beings who encounter this circumstance.

We talk lots about love and compassion, but it sounds more or less like lip service, as we are not seriously concentrating on the actual meaning of love and compassion in order to make it rooted in our mind. By engaging this practice, we sustain this attitude in our mind as well as naturally cultivate love and compassion with our speech and bodily conduct according to the sutras the Buddha has given.

On this occasion, many animals have their life taken away. Most especially, turkeys are the target for the celebration of this occasion. I saw animal cruelty on the television, and they keep the animals with a very miserable life. They kill them as if they have no life at all. This is an example, but that's the way human beings treat lots of animals. So, the KDK Buddhist Center is dedicating this day to compassion to all sentient beings, but more especially the turkeys that are targeted on this occasion. On this day, we are starting at 10 AM with the practice of the Bodhisattva Mahasattva Mahakaruni, the Avalokitesvara, the manifestation of the essence of all the Buddhas and Bodhisattvas compassion. So, in order to cultivate compassion from our heart, we need such pure compassion energy from the divine Bodhisattva Mahasattvas. We will be practicing the Sadhana of 1000 Arm Chenrezig Mahakaruna and reciting the dharani mantra. We urge you all to come to do this together with one pointed compassionate mind and dedicate this to those beings who are killed for human pleasure. I, Lama Lodu Rinpoche and KDK invite you to this special occasion. This is the annual Thanksgiving event at KDK, and I hope everyone can make it. If you are able to come, please make a reservation by leaving a message with the KDK Office Line at (415) 752-5454. This way, we will be able to make sure we can accommodate your needs. At 12'Noon, we will be beginning the feast. While you are chanting, we will provide tea and cookies.



St. Louis Teachings

Dec. 2nd—Dec. 10th
Lama Lodu Rinpoche
St. Louis, MO

Lama Lodu Rinpoche returns to St. Louis, Missouri to give nine days of teachings to the assembled Sangha. For more information, see the KDK St. Louis web page at www.kdkstl.org

For questions, contact Kati @ kdk.st.louis@gmail.com



White Mahakala Initiation & Teachings

Dec. 16th-17th
Lama Lodu Rinpoche
KDK, 1892 Fell St, San Francisco

10 AM—Noon, 2 PM—4 PM each day

Tuition: $100 ($50 for KDK Members) for the weekend; register @ http://kdk.org/event_reg.html

White Mahakala is known as Gonpo Yishin Norbu, which means "Lord of the Wish Fulfilling Gem". During the annual Mahakala Five Day retreat, the practice of White Mahakala, "Lord of the Wish Fulfilling Gem" is included within the Black Mahakala practice. Most people have the initiation of Black Mahakala, but many lack the initiation for White Mahakala. This is helpful for the participants in this retreat, and also gives the blessing to others who wish to join is so that they can make a connection. Black Mahakala, in general, is for overcoming obstacles on the path to enlightenment, but White Mahakala is specifically for the wealth and prosperity of the practitioner who may have financial difficulties that interferes with their smooth progression on the path of Dharma.

Those wishes will be fulfilled more speedily due to the blessings of the Lord of the Wish Fulfilling Gem. Both Black Mahakala and White Mahakala are effective for overcoming obstacles on the path, and help to continually maintain good conditions both in this lifetime and at the time of death in the Bardo. In addition, these practices help to develop compassion to other beings and increase devotion to the enlightened beings.

The lineage of this practice comes from Rahula Gupta and the Yogi Maitripa, two Indian masters who bestowed this initiation directly to Yogi Kyungpo Naljor, the Tibetan master who sacrificed his life to receive the Vajarayana teachings from Indian masters. Yogi Kyungpo Naljor had 108 great accomplished masters, and he especially received this lineage directly from the Wisdom Dakini Niguma. Niguma directly received this transmission from the Buddha Vajradhara, Dorje Chang, who is the Lord Buddha Sakkyamuni himself. The Lord Buddha appeared to the Mahayana disciples as the Sakkyamuni Buddha Nirmanakaya form, as is tradition. When he bestowed the profound Vajrayana teachings, he appeared in Sambhogakaya form, the so-called Enjoyment Body form of Vajradhara.

In order to prevent someone who was not suitable from receiving this teaching, he maintained the secrecy of the teachings by transforming his ordinary body to his celestial, rainbow body. In this way, he hid the teachings from anyone who was not qualified to receive them. Niguma, herself having ripened her karmic body and transformed to rainbow body, was able to meet Vajradhara as person-to-person and directly received the profound teachings from him.

This great wisdom dakini then bestowed the teachings to the great yogi from Tibet called Yogi Kyungpo Naljor. From there, the lineage came down to the Shangpa Lineage up until the Vajradhara Rangjung Kunkyab (His Eminence Kalu Rinpoche). Lama Lodu Rinpoche has received this transmission, and being urged for this occasion to give this initiation. If anyone is interested to receive this initiation, there is no restriction. If you have not yet taken refuge, you can take refuge at this time, and if you have already taken refuge then you are welcome to come.



New Year Mahakala Retreat

Dec. 27th-Jan 1st
Lama Lodu Rinpoche
KDK, 1892 Fell St, San Francisco

Wed., Dec. 27th - Torma Day

Thurs., Dec. 28th - Mon., Jan. 1st - Practice Days & Conclusion

Every lineage has the protector Mahakala. But, this is specifically the Shangpa Kagyu lineage protector. In an earlier century, an Indian mahasiddha who was doing Mahamudra practice in a cave suddenly had the vision of Mahakala, hearing the sound of flashing lights and thunder and all kinds of mystic forms of sound and sight which made him awake from his state of Mahamudra and opened his eyes to space. There he saw the vision of Mahakala with his retinue. Mahakala gave the sadhana, empowerment, and transmission directly to the mahasiddha Shawaripa, who then transmitted this to Maitreya, and then on to the Tibetan Yogi Kyungpo Naljor who brought this transmission to Tibet. Since then, Mahakala has been the protector of the Shangpa Lineage. Particularly in the Gelukpa lineage, Six-Arm Mahakala is their protector, and other lineages practice this in addition to their own specific protector practices. This Mahakala is the true protector of the general Buddhist teachings and the preservation of the teachings of the Buddha. We provide some commentary here because in this day, many people have many protectors which they don't even know is a ghost or protector. This protector is not in any way doubtful like that - this is the true protector. Please join and help and practice.

The public may sit in for any length of time and absorb the blessings. Everyone is invited to donate money and/or lend their assistance in support of this wonderful event. Help is needed for cooking, cleaning, preparing tsok. There are sponsorship opportunities for breakfast, lunch, dinner, tea service as well as daily tsok offerings.

Also, it is important to give the names of deceased parents and friends, as well as those encountering difficulties in this lifetime, this practice will be beneficial to them. Any way that you can contribute for tsok or assisting during the practice, let us know and we will schedule you so that there is always someone on hand to assist the practitioners.

Please leave a message at the KDK Office line at (415) 752-5454 (press # to skip message), or donate via PayPal:





Birthday Celebration of His Holiness Chamgon Dorje Chang Tai Situ Rinpoche

Saturday, February 24th, 10 AM - Noon Venerable Lama Tenam Venerable Lama Palden Dorjee

KDK, 1892 Fell St, San Francisco
Flyer for His Holiness Tai Situ Rinpoche Birthday Celebration

On February 24th, starting at 10 AM, we will celebrate the birthday of His Holiness Chamgon Dorje Chang Tai Situ Rinpoche. At 10 AM, we will begin with Tara puja, led by Venerable Lama Tenam-la and Venerable Lama Palden Dorjee, followed with a short introduction by Venerable Lama Tenam, and then long life prayers for His Holiness Chamgon Dorje Chang Tai Situ Rinpoche. We invite and welcome all Buddhist devotees, Asians and Caucasian, to join us at KDK for this special occasion. Last year, Lama Palden Dorjee also conducted puja and long life prayer, so this is the 2nd annual occasion and we hope to keep this schedule every year. It is wonderful to have all the devotees gathered together. It will be an opportunity to meet all of these devotees, as all of you are practicing under his guidance. All of us together offering prayers will be more effective than just a few people doing this.

It is very fortunate that Venerable Lama Tenam will give us the opportunity to view a video tape of the Palpung Monastery and the activities of His Holiness Chamgon Dorje Chang Tai Situpa. This is very good for people who know how Sherabling has been rooted for the lineage, and that there is very much hope for future generations. This tape is more or less, "seeing liberation", and we urge you all to give this time for yourself. After the video, if you have any questions, the Venerable Lama Tenam will answer. We invite asians, caucasions, all the different students and devotees to seriously take this opportunity.

Also, this occasion is sponsored by the Tibetan devotees, Mr. Thubten's family from Dergye.

This incarnation lineage starts with Lord Maitreya, a direct disciple of Lord Sakkyamuni, who the Buddha prophesized would be the coming fifth Buddha. Since the Buddha Sakkyamuni's time, he has reincarnated in India and Tibet, and has benefited many beings and contributed to increase and sustain the Buddha's doctrine. In India, there was the Indian Mahasiddha Don-Be Heruka, and many other forms of Bodhisattvas and Mahasiddhas who were incarnated in India. In Tibet, he was incarnated as the Lord Translator, Marpa. After that, he was born as Situ Dogon Rechen, who was the first Karmapa's heart disciple. Since then, he has reincarnated in Tibet in many different schools of Tibetan Buddhism as scholar and yogi. Situ Chokyi Jungnye was the one who established the Palpung Monastery, which had more than 1,000 monks up until the time of the Chinese invasion. They had a university of sutra and tantra, and five different kinds of signs that all studied and many of Situ Chokyi Jungnye's disciples became yogis and scholars, who became renowned throughout Tibet and benefited sentient beings through his blessings and wisdom. After the religious freedom in Tibet, he reestablished all of the qualities of the Buddha's philosophy and the five signs, which is continuing up until now and more than 1,000 monks study and graduate from that college. Khenpos, yogis, lamas go all over the world carrying the activity of the Buddhadharma. The Karma Kagyu Tsurphuk monastery in Tibet was founded by the first Karmapa Dusum Kyenpa, and Palpung was founded by Situ Tsokyi Jungnye. These monasteries are well known in Tibet, known as "Pal Tsur". The main seat of Tai Situpa in Palpung is in the Eastern Tibet. In the center of Tibet, Tsurphuk monastery, is the seat of His Holiness the Karmapa. These are both in the same lineage. There are so many Karma Kagyu monasteries in central Tibet and eastern Tibet, but we only list these two because these are continually functioning and historical two main seats of the Karma Kagyu Lineage.

We hope you all can join to offer prayers for His Holiness' long life and flourishing of His Buddha activities.



Teachings on Vajrasattva Practice

March 10th-11th (UPDATED from the Newsletter)
Lama Choying
KDK, 1892 Fell St, San Francisco

10 AM—Noon, 2 PM—4 PM each day

Tuition: $50 ($25 for KDK Members) for the weekend; register @ http://kdk.org/event_reg.html

Among the Five Dhyana Buddhas, Vajrasattva is the source of the manifestation of the Buddha. All of the Vajrayana Buddhists use this as the purification method. There are many methods to purify, but the most authentic purification practice is Vajrasattva. This is very necessary for someone who is devoted to practicing the Vajrayana path.

Lama Chöying will give teachings on the short sadhana of Vajrasattva, lead practice and conduct Question and Answer to ensure everyone has the understanding they need to engage in this foundational Vajrayana practice.



One-Thousand Arm Chenrezig Initiation & Teachings


Note: This is updated from the original newsletter schedule, which indicated Four-Arm Chenrezig

Apr. 28th—Apr. 29th
Lama Lodu Rinpoche
KDK, 1892 Fell St, San Francisco

10 AM—Noon, 2 PM—4 PM each day

Tuition: $100 ($50 for KDK Members) for the weekend; register @ http://kdk.org/event_reg.html

During these degenerate times, the practice of Chenrezig is the most important for overcoming the afflictions of anger and war. In the world today, there is both the threat of nuclear bombs as well as intense anger, leading people to make war and kill others through bombings. This leads to anger and confusion throughout all the world and causes great pain and suffering.

A Buddhist is not hopeless in such a situation. According to Santidewa, a great scholar and yogi at India's Nalanda University and the composer of the "Way of the Bodhisattva", these circumstances can be turned into the Path of Liberation leading to quick freedom suffering and confusion. Dipham Kara, composer of the Lam.Rim, "Stages of the Path" stated that all of these unfortunate conditions can be put into the path. This time of degeneration can be very effective when these teachings are applied, so therefore we have this opportunity to fuel our practice to speed ourselves to our destination. This all has to do with compassion. Compassion is the direct antidote to anger, and anger arises due to our ignorance. The antidote to ignorance is wisdom. So, when beginner practitioners train in wisdom and compassion in union, they attain the remedy to ignorance and anger. Love and compassion are the most important tools on the Buddhist Mahayana path. Although we all have within ourselves the true nature of compassion, we need a method to set conditions for it to flourish and manifest itself. The practice of Avalokitesvara (Tibetan: Chenrezig) is the important cause to illuminate this compassion and loving kindness and make it truly manifested in the mind-stream. Avalokitesvara is the essence of the past and present Buddhas and Bodhisattva's compassion energy.

There are many different practices of this deity yoga, but Chenrezig is more effective than any other. He embodies all of the Buddhas and Bodhisattvas in all of their forms, both peaceful and wrathful, male and female deities. When we recite the mantra Ohm Mani Peme Hung we are calling to all of the Buddhas and Bodhisattvas, and when we visualize Avalokitesvara, we are visualizing all of the Buddhas and Bodhisattvas in all of their forms, peaceful and wrathful, male and female. He is the one source of refuge and savior. It is a very important to learn how to practice, so that you can practice at home by yourself. Initially you can come to the center and practice with a group, and when you get used to it you can practice anywhere you want so that you are never away from this Dharma Sanctuary.

This is beneficial for living as well as dying. In life, this practice help heal you and extend your life span, glory and merit, and bring your life to more good fortune. When you die, this will help you at the moment of death so that you can avoid pain and confusion. Acclimating one's mind to this practice even a little bit will greatly ease your transition in the Bardo to your next life with fortunate circumstances and have all of the conditions needed to meet the Path of Liberation.

The KDK Board of Directors and all the Sangha encourage anyone to receive this teaching and initiation, as given by a true Dharma Master, Lama Lodu Rinpoche.



Eight Nyung Nes Retreat

May 13th—May 30th
Lama Lodu Rinpoche
KDK Retreat Land, Laytonville, CA

Tuition: $700 (KDK Members: $400); visit:

http://kdk.org/event_reg.html for online registration

Visit this link for a description of the vows undertaken during the Nyung Nes practice.

Arrival Day: May 12th (Sat.) - Participants arrive and settle in. There are two compounds at the Mendocino retreat-land, Naroling and Niguling. There are comfortable cabins and rooms in the compound houses, which are available on a first-come-first-served basis.

Torma & Preparation Day: May 13th (Sun.) - Altar preparation and torma day. There will be teachings and time for questions and discussion. Also, first-time students will receive empowerment. If you have not done Nyung Nes before, please notify us of this when you pre-register.

8 Nyung Nes Practice Days: May 14th—May 29th

Conclusion & Ganachakra Offering: May 30th.

Pre-registration is required for this retreat. Please Email Deborah Janke at deborahpricejanke@att.net in order to receive detailed instructions for getting to the KDK Retreat Land and other information.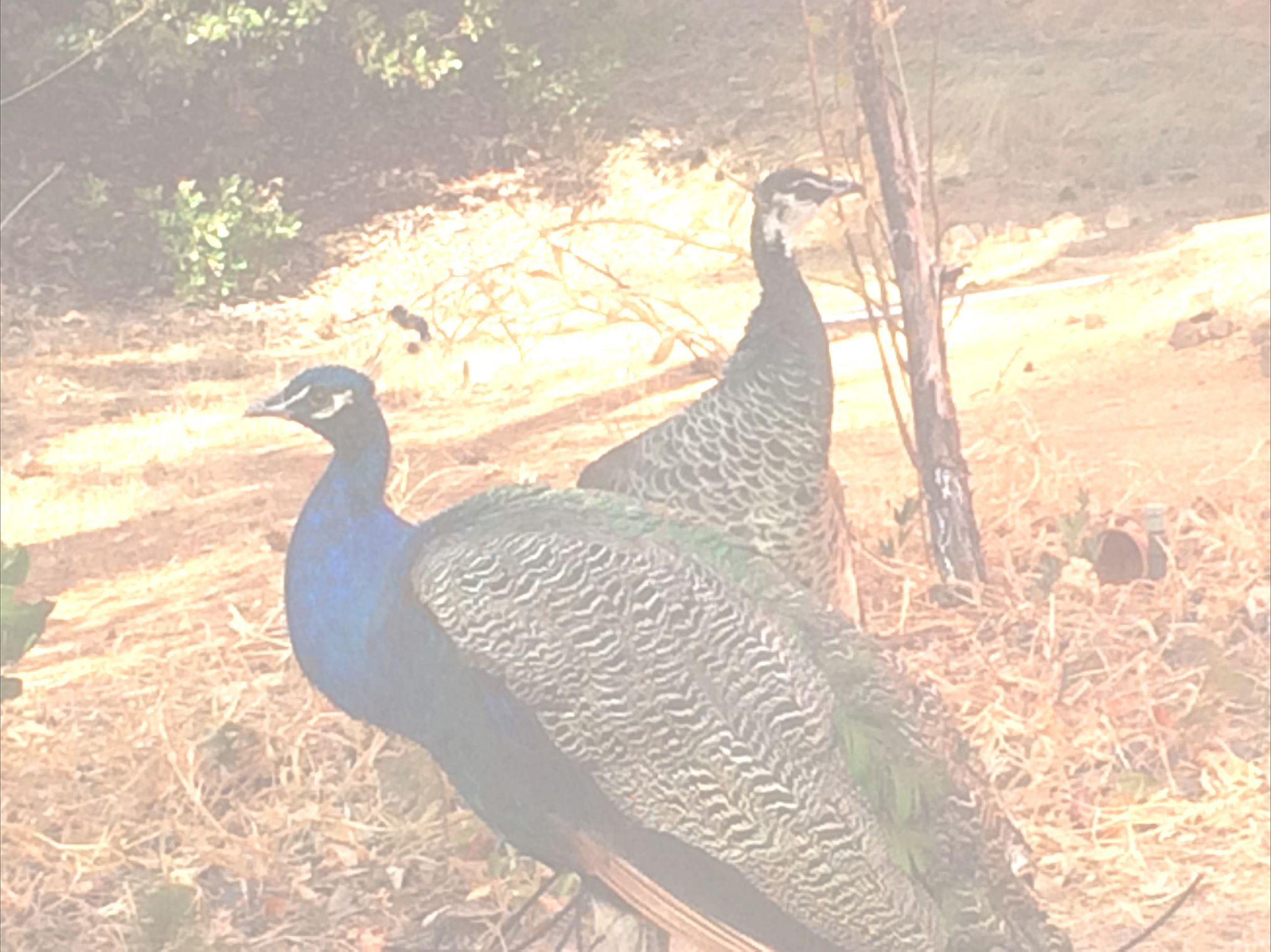 As Lama Lodu Rinpoche and long-term practitioners finalized the preparations for the Red Chenrezig retreat , some students dedicated to Dharma drove from New Mexico to deliver two very auspicious guests to the KDK Retreat Land in Mendocino County: a mated pair of peacocks. Peacocks support the throne of the Amitabha Buddha and symbolize Discriminating Wisdom. We hope they continue to thrive and ornament the KDK Retreat Land with their presence.