KDK Newsletter Schedule, Spring 2017 - Fall 2017
Lama Lodu Rinpoche leads the Eight Nyung Nes Retreat
Tuesday, May 23rd (Arrival Day)
Wednesday, May 24th (Torma & Prep Day)
Thursday, May 25th—Friday, June 9th —Eight Nyung Nes
Saturday, June 10th—Conclusion & Ganachakra Offering
KDK Retreat Land, Laytonville, CA
Tuition: $700 (KDK Members: $400)
Visit http://kdk.org/event_reg.html for online registration
Visit here for more information about the vows and the Nyung Nes practice.
Arrival Day: May 23rd (Tuesday) - Participants arrive and settle in. There are two compounds at the Mendocino retreat-land, Naro-ling and Nigu-ling. There are com- fortable cabins and rooms in the compound houses, which are available on a first-come-first-served basis.
Torma & Preparation Day: May 24th (Wednesday) - Altar preparation and torma day. There will be teachings and time for questions and discussion. Also, first-time students will receive empowerment. If you have not done Nyung Nes before, please notify us of this when you pre-register.
8 Nyung Nes Practice Days: May 25th—June 9th
Conclusion and Ganachakra Offering: June 10th
Pre-registration is absolutely required for this retreat. Please Email Deborah at deborahpricejanke@att.net by May 1st. See the article earlier within this newsletter for more information about the vows involved with Nyung Nes practice.
Karmapa's Birthday Celebration
Saturday, June 24th, 9:30 AM—4:30 PM
Berkely Marina, Shorebird Park
We invite students of Kagyu Droden Kunchab to join the celebration of His Holiness' Birthday. This annual event is sponsored by many organizations and devoted indi- viduals and is held at the Berkeley Marina. The public is invited to participate in this wonderful gathering where food, a fire puja, prayers and Tibetan cultural festivities will occur.
Location: Berkeley Marina Shorebird Park, next to His Lordship's restaurant. Parking Lot directions: Take University Ave. Exit west toward the bay, then follow the signs to His Lordship's restaurant.
Lama Lodu Rinpoche teaches in Mt. Shasta, California
Saturday, July 15th—Sunday, July 16th
For more information about Rinpoche's schedule at Mt. Shasta, contact Lily Stephen at:
evolutions@snowcrest.net
Lama Lodu Rinpoche gives teachings in Arcata, California
Saturday, August 5th—Sunday August 6th
For more information on Rinpoche's teaching schedule in Arcata, contact Lama Nyugu at fierro_roman@yahoo.com or visit their website:
http://kdkarcatagroup.org
Lama Lodu Rinpoche gives teachings in Tucson, Arizona
Monday, August 21st—Sunday, August 27th
For more information on Rinpoche's schedule, contact Teri Bradley at teribradley22@yahoo.com or visit their website:
http://www.bodhisattvainstitute.org
Lama Lodu Rinpoche leads a Red Chenrezig Practice Retreat
Saturday, Sept 9th— Saturday, Sept 16th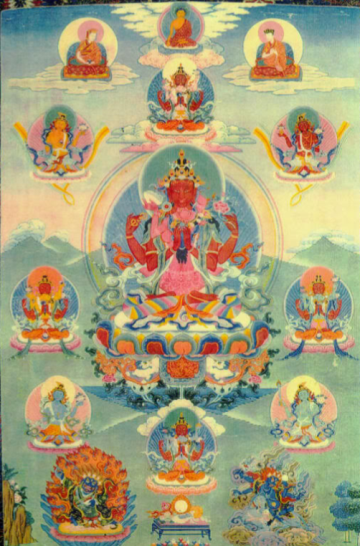 Among the four tantras, the Red Chenrezig practice is categorized as Mahayoga tantra. Among the Mahayoga tantra, this specifically focuses on Father tantra. This practice belongs to the lineage of the Great Master, Mahasiddha Rechung Dorje Drakpa, who was the heart disciple of Jetsun Milarepa. This particular lineage came from India and was brought to Tibet by the Yogi Rechung Dorje Drakpa, who was an emanation of Vajrapani. He received this teaching from the India Mahasiddha Tipukpa, who received this initiation from the Great Wisdom Dakini Drupay Gyalmo, who received this initiation directly from Guru Padmasambhava. Belonging to the intense yogic tradition, Rechung Drakpa Dorje passed this lineage down to Lama Sangrirepa and then to Drogon Repa Chenpo (This is Tai Situpa, the First Karmapa Dusum Khyenpa's first disciple) Then, it was passed down to Drubchen Pomdrakpa and then to Drubchen Karma Pakshi. From that Karmapa up until the 17th Karmapa, Red Chenrezig was the principal deity of the Karmapa. From the Two-Armed Protector lineage prayer:
"Yidam Gyalwa Gyamtso Chenrezig
Chokyong Dorje Ngakpo Bernakchen"
This says that the Karmapa's principal deity is Red Chenrezig and the Dharma Protector of the Karmapa is Dorje Bernakchen, and this shows how important Gyalwa Gyatso is to the Karmapa.
It is a very special practice to those who have a great sense of devotion to the Karma Kagyu lineage, because this deity is the principal deity to His Holiness, and the blessings to the disciple will be more speedy than oth- ers. His Eminence Kyabje Kalu Rinpoche Rangjung Kunkyab, when he gave a daily public talk to the gath- ered devotees, always mentioned His Holiness Karmapa as the embodiment of all the Buddhas. So, whenever you practice Avalokiteshvara, you are very close to and inseperable with Avalokitesvara's divine body, divine speech, and divine mind. Your connection with all of the Buddhas and Bodhisattvas is increased while you are practicing Avalokitesvara. When you focus your mind to Avalokitesvara's form, that means that you are close to the wisdom body of all the Buddhas. When you reciting the mantra, Om Mani Peme Hung, your speech is close to the divine eloquent speech of the Buddhas and this purifies your speech and body. Overviewing your visuali- zation of the deities and the sound as empty, then you are inseparable from the Buddha's mind. This is the great method by which one can purify this ripening kar- mic body, speech and the mind of the perceiver/ perceived which is bound and makes it impossible to overcome samsara; that will be completely freed.
We, KDK Sangha members have the blessing that older students have received this initiation directly from His Holiness 16th Gyalwang Karmapa and also His Eminence Kyabje Kalu Rinpoche, who gave this initiation for five days during a detailed outer, inner and secret initia- tion. His Eminence Kyabje Mingyur Rinpoche also re- cently gave this detailed initiation for students who have not previously received this initiation from these two great masters; they were fortunate to receive this from Mingyur Rinpoche. Having the initiation does not mean you have completely gained all you need; we need to focus on some practice. Under the guidance of Lama Lodu Rinpoche, we received the teachings and the com- mentary on how to put this into practice, and he re- quested all of us to practice this daily. For this seven day practice, we are doing the extensive Red Chenrezig Drub Cho. Every day, we will do the sadhana three times with self-empowerment and on the last day, with fire puja. It will be a very wonderful blessing for all of us who follow the Vajrayana practice. You can participate if you have this initiation. We do not have an english translation or transliteration available, only Tibetan, and we especially urge that whoever received the com- mentary teachings last year from Lama Lodu Rinpoche to come and participate in all days. You will need to contribute time and should study before the Drub Cho starts. As time goes by, we will organize these things. Lama Lodu Rinpoche will host this retreat on the KDK Retreat Land, the Land of the Four Golden Dharmas in Laytonville, CA. We will need someone to lead puja, and we will need to train for different rituals for the practitioners as well as the Karma Master, so people will need to help. We will need someone to cook, someone to do shopping, and someone to as- sist while doing puja. On the last day, the mandala will be opened to the public and anyone is welcome to come. The puja will span from September 9th through September 16th. As the KDK Re- treat Land has some restrictions and gate codes, you will need to register prior to your arrival. Anyone is welcome to come on the last day, but we request no smoking and no drinking and no non- Dharmic conduct while you are on the Retreat Land. The Sadhana is the daily practice that is performed every month on the New Moon day at Tsurphu, and every year they conduct a seven-day Drub-Cho at Rumtek, and is a popular practice in the Karma Kagyu tradition.
Lama Nyugu will be the organizer. You may reach him at: fierro_roman@yahoo.com
Lama Lodu Rinpoche gives teachings on the Way of the Bodhisattva at KDK
Sept 23rd and Sept 24th; 10 AM—12 PM, 2 PM—4 PM each day
1892 Fell St., San Francisco
Tuition: $100 ($50 for KDK Members) for the weekend; register @
http://kdk.org/event_reg.html
This text belongs to the Shastra, and was composed by the Bodhi-sattva Tokmay (Asanga), who was an incarnation of Avalokitesvara. He wrote 37 stanzas of the Way of the Bodhi- sattva containing the stages of the path: renunciation, revulsion to Samsara, overcoming samsara, devotion to the Three Jewels, dedication of oneself to benefit other beings, the view of Emptiness, and dedicating all of the merit one has accumulated to the total achievement of omniscience. There are many commentaries and books you can find. This was requested by a student of KDK who has long time served for many positions of the center, and she has also practiced along the path, and by her own experience she knows we need to clarify how the Bodhisattvas walk on the path of liberation. Therefore, she requested Lama Lodu Rinpoche to give teachings on this topic. Even though time is very limited on such a broad and profound topic, Rinpoche will condense this teachings to one weekend. Rinpoche will give teachings based on the root text with his capability.
Lama Lodu Rinpoche gives Teachings in New Mexico
Monday, October 2nd—Sunday, October 8th
Lama Lodu Rinpoche will give teachings across New Mexico.
For information, visit the KSK website: http://nobletruth.org; or contact Fred Cooper & Gabrielle Herbertson:
Email: fredcath@earthlink.net
Email: gabrielle.herbertson@gmail.com
Lama Lodu Rinpoche gives teachings at Kagyu Sukha Chöling in Ashland, Oregon
Friday, October 20th—Sunday, October 22nd
Friday Evening—Public Teachings on Fearlessness
Saturday through Saturday — Green Tara Initiation & Teachings
For times, location and more information, visit the website: http://kscashland.org
For questions, you may Email Lama Pema and Lama Yeshe at lamas@kscashland.org