Lineage Update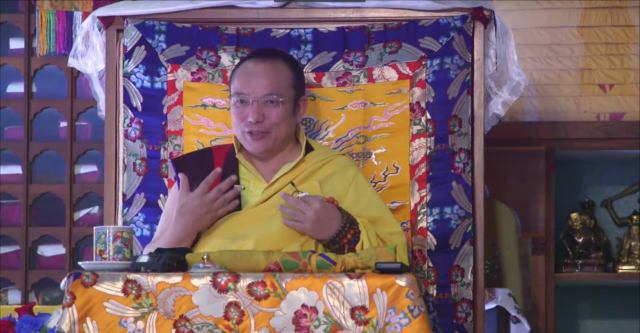 His Holiness Jamgon Kenting Tai Situ Rinpoche, Lord of Refuge, residing on the throne at the KDK Main Shrine
In the Year 2016, we had the long-awaited return of His Holiness Jamgon Kenting Tai Situ, Lord of Refuge to California. It was very fortunate that he bestowed the teachings at Palpung Lungtok Choeling in San Jose, and afterwards he came to Kagyu Droden Kunchab and spent two days and one night. The first day, he immediately interviewed Westerners, Tibetans and Chinese and fulfilled their wishes for Questions and Answers. Later in the evening, he bestowed the excellent empowerment of the Four Deities, a very high and profound Shangpa lineage practice, to a completely packed room of devotees at the University of San Francisco. It was the most enlightening, planting the seed of devotion to the lineage to the depths of our hearts as we learned the profound practice and teachings of this ancient lineage of the Kagyu tradition. Of course, we look continuously for his guidance, and the KDK Board of Directors requested that Kagyu Droden Kunchab be under his guidance and that His Holiness be our spiritual leader.
On the next morning, His Holiness kindly appeared in the small shrine room of KDK and presided in front of all the Sangha members and Board of Directors and he kindly gave the explanation of the Kagyu lineage and reincarnation, and how the lineage has flourished for over 1,000 years. Everybody present received a special understanding of this lineage and deepened their dedication; furthermore, they do not regret whatever work they have done to work hard for this lineage.
All of the members have been dedicated continually to practicing and flourishing this lineage. The morning session ended auspiciously, and His Holiness departed to Marin County for a public talk.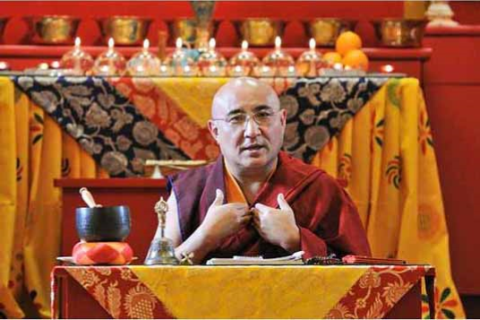 Venerable Lama Tenam
Lama Lodu Rinpoche requested to His Holiness Jamgon Kenting Tai Situ Rinpoche that Venerable Lama Tenam be His Holiness' representative at KDK, and so as of January 9th on this new year of 2017, Venerable Lama Tenam came to KDK and joined the meeting, and accepted this request. He is now the Chairman of the Board of Directors of KDK, under His Holiness Jamgon Kenting Tai Situ Rinpoche. Venerable Lama Tenam, new Chairman of the Board of Directors of Kagyu Droden Kunchab.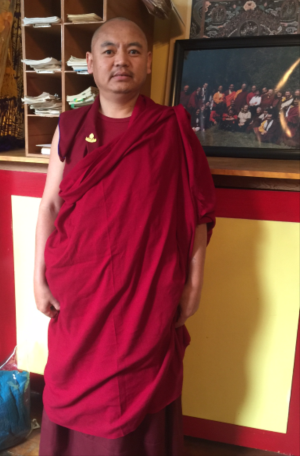 Venerable Lama Palden Dorje
His Holiness also appointed Venerable Lama Palden Dorje to be Lama Lodu Rinpoche's assistant, and he is currently residing at KDK. He is participating in the evening and morning pujas, learning English, receiving instruction from Rinpoche and preparing himself to be more engaged with KDK activities.
--------------
All us of here at KDK are awaiting the dates for the 2017 North American Kagyu Monlam. When those dates become available, they will be published to the KDK website.