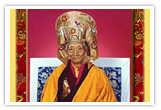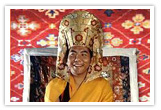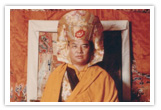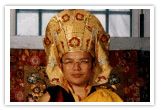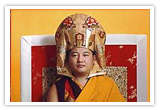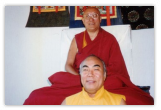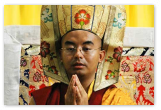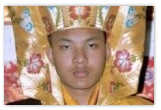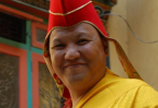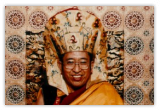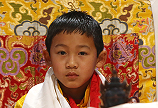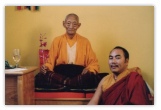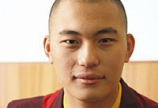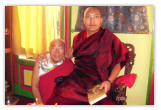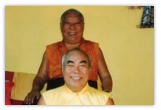 Kagyu Droden Kunchab, established in 1974, is dedicated to the ultimate benefit of all sentient beings. By supporting the center through your membership, you connect with the boundless merit of those who brought Buddha-Dharma to the West. As a supporting member you merge with the highest intentions of Kalu Rinpoche, Lama Lodu Rinpoche and other bodhisattvas.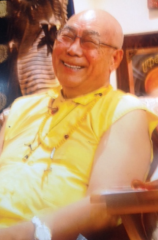 Subscribe to the KDK-Events:
Kagyu Droden Kunchab
1892 Fell Street, San Francisco,
California 94117, USA
(415) 752-5454
It is a big loss that Venerable Khenpo Karthar Rinpoche has passed away. We join with your sorrow.
He worked hard to flourish Buddhism in general. In particularly for the Kagyu Lineage, he held the heart essence of the Kagyu lineage and was a light of the Kagyu lineage. At this moment, it is briefly dark and it is hard to accept. Due to conditions, accept it, and expand our mind more to request for his return as soon as possible and continue to pick up the job he has left behind. We at KDK, Board of Directors, students, lamas, we all suffer for his loss. We will dedicate to prayer for return 6 to 7 AM and evening 8-9 PM in daily practice. Any eminent writing his return prayer can share with us, and we will insert that into our daily prayers.
Karmapa Khyenno!
Solitary Retreat on KDK Retreat Land

October 11th - 20th

Mendocino County, CA
Online Registration: http://kdk.org/event_reg.html
Tuition: $20/day; Questions? Email deborahpricejanke@att.net
KDK is offering this once-a-year opportunity for individuals to engage in solitary retreat, open to all Dharma practitioners. Deepen your own meditation practice, attend optional group practice. circumambulate the stupas, all in the tranquil environs of the KDK Retreat Land. Your retreat can be any length, from 1 to 10 days. There will be a daily practice schedule, with optional group meditations each morning and evening, and a daily work detail to help maintain the land--hanging prayer flags, cutting grass, etc. A resident Lama will offer Dharma teachings and be available to answer questions.
A limited number of cabins are available, as well as camping sites. There are two compounds with kitchens and bathrooms. Registration is necessary at the link above, as accommodations are limited and you will need instructions and a gate code to enter the Retreat Land. Retreat Land rules prohibit alcohol, smoking, music, and pets--only Dharma activities are allowed.
Participants will need to bring their own food, clean their space, and remove their trash before departing.