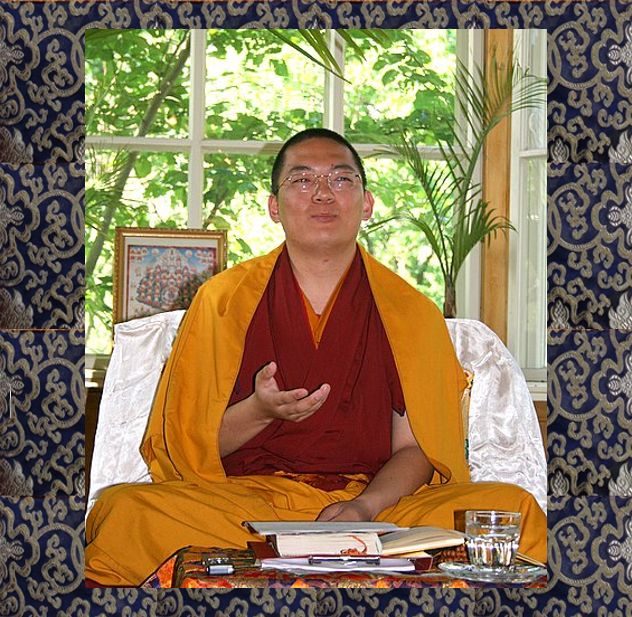 Venerable Gyalton Rinpoche gives Teachings and Initiations in the Bay Area, June 19th through June 25th
Kagyu Droden Kunchab, 1892 Fell St., San Francisco, CA
6/19 - KDK welcomes Gyalton Rinpoche, everyone is encouraged to come to KDK and welcome him for his arrival. He will reside at KDK that evening.
6/20 - After breakfast, Rinpoche will go to the KDK Retreat Land. In the evening, he will give teachings in Willits about Compassionate Chenrezig.
6/21 – Rinpoche will bless the stupas and retreat cabins, and spend time on the retreat land. Later afternoon, he will give teachings and the Chenrezig initiation to the Willits study group - everyone is welcome. For information, please Email: honemann@yahoo.com
6/22 – 6/25 – Rinpoche will return to KDK and give teachings on the Seven Points Mind Training, then a Medicine Buddha Initiation and teachings.
Tuition: San Francisco Schedule 6/22-6/25: $200 KDK Members, $250 Non-members; Individual Sessions: $25 KDK Members, $50 Non-Members. Schedule subject to change. For registration, visit http://kdk.org/event_reg.html.
Venerable Gyalton Rinpoche was born in Gangtok, Sikkim and recognized by His Holiness Khenting Tai Situ Rinpoche. Obeying his parents, he graduated from an indian university and attained a law degree, but then immediately returned to Palpung Sherabling and asked for ordination to continue his past-life activity. He received the special Karma Kagyu transmission from His Holiness Tai Situ Rinpoche. Venerable Gyalton Rinpoche engaged in both monastic training and tantric college at Sherabling, served as Vajra Master, and completed Three Year Retreat. He is one of the heart disciples of Khenting Tai Situ Rinpoche, and is actively teaching in the West. He is a very rare teacher who comes to the United States completely fluent in English. Many teachers come to teach, but the language barrier makes them unable to express what they want to express. As we have a teacher like Gyalton Rinpoche who speaks perfect English, receiving teachings from him is receiving teachings directly from guru to disciple.
The Seven Points Mind Training is the basic Buddhist principal of the Mahayana and Vajrayana teachings. Rinpoche will clarify each point in detail directly to his students. Because of his clear english, he may have more clarity and detail and give more profound meaning than receiving the teachings through a translator. Afterwards, he will give the Initiation of the Medicine Buddha and give commentary on the Medicine Buddha practice.
If you want to see more of the amazing story of Gyalton Rinpoche, see his biography at: https://www.palpung.org/english/monastery/sherabling/master/gyalton.htm.

Teaching Schedule
(For Rinpoche's 6/20-6/21 schedule in Willits, please EMail
honemann@yahoo.com
)
| | | | |
| --- | --- | --- | --- |
| 6/22 | Thursday | 7:30 PM – 9 PM | Seven Points Mind Training, Part 1 |
| 6/23 | Friday | 7:30 PM – 9 PM | Seven Points Mind Training, Part 2 |
| 6/24 | Saturday | 10 AM - Noon | Seven Points Mind Training, Part 3 |
| 6/24 | Saturday | 2 PM - 4 PM | Seven Points Mind Training, Part 4 |
| 6/24 | Saturday | 7:30 PM - 9 PM | Seven Points Mind Training, Part 5, Question & Answer |
| 6/25 | Sunday | 10 AM - Noon | Seven Points Mind Training, Part 6, Conclusion |
| 6/25 | Sunday | 2 PM - 4 PM | Refuge Ceremony & Medicine Buddha Initiation |
| 6/25 | Sunday | 7:30 PM - 9 PM | Medicine Buddha Teachings |