Assistant Teachers at KDK
Acharya Kunzang's Activities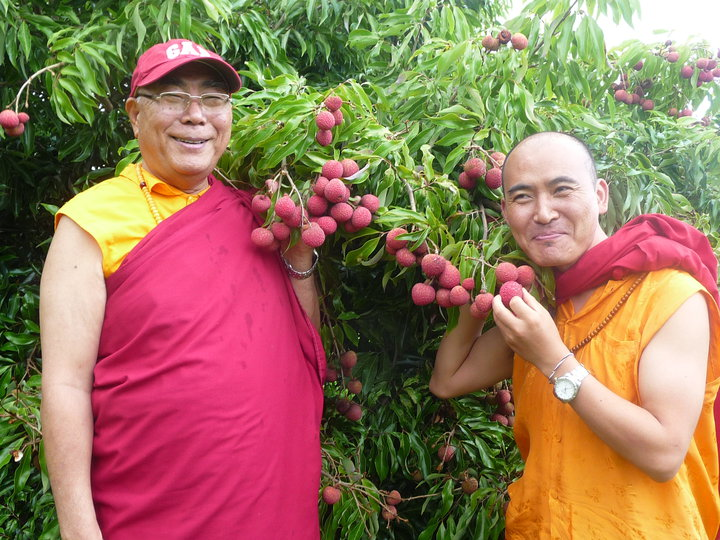 Acharya Kunzang was ordained at an early age as a monk. He is very friendly and humorous but sincerely dedicated to his monk vows.
He entered Rumtek Monastery at eight years old. He studied at the monastery for a few years, learning reading, writing,dancing and torma making. Later, Lama Lodu Rinpoche enrolled him into the Nalanda University of Buddhism where he trained in high Buddhist philosophy. He studied for twelve years and graduated with the Acharya degree. After he completed this degree, the monastery appointed him as the discipline master, a job that all University graduates are required to take for one year. At the command of His Holiness, he served an extra year at this post, and then requested to resign his discipline master position. The monastery requested that he become the treasury bookkeeper, but he declined as he responded that he was not skilled with bookkeeping. However, His Eminence Gyaltsab Rinpoche commanded that he teach and so he taught several different subjects at the University. His uncle, Lama Lodu Rinpoche, asked him to come to his center in San Francisco to be his assistant. The students of KDK appreciate his presence and have requested him to stay here at KDK. His green card is being processed right now.
One of the students of KDK, Alice Loh, has been working on the immigration procedures and we here at KDK very much appreciate her effort and give our thanks.
Acharya Kunzang is going to teach the essence of all the Buddhist doctrine, which is compassion and loving kindness and will make his public teaching debut this year. Please pay attention and learn from this pure monk.
Lama Choying's Activities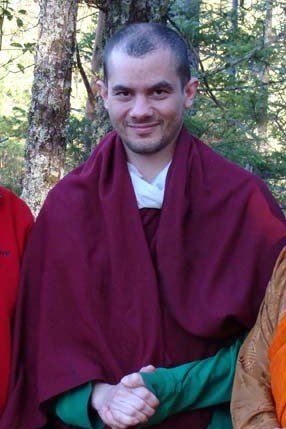 In late February 2011, Lama Choying will give serious teachings of the Four Foundations, which is the basic essence of the Buddha.s teachings. These four practices lay a foundation for all future Buddhist practice and are the seed by which we can transform our ordinary, samsaric lives into a path of happiness and liberation.
He has received initiations and teachings from His Eminence Tai Situpa, Khenpo Tsultrim Gyatso Rinpoche, Mingyur Rinpoche, and His Eminence Thrangu Rinpoche, who also gave pith advice for those entering Three Year Retreat. With the encouragement and blessings of the lineage and the peerless guidance his kind root guru, Lama Lodu Rinpoche, he completed Three Year Retreat in April 2009. Later that year, Rinpoche asked him to help with the Dharma center as his assistant and conduct Q&A on Saturday nights. Recently, he was the Shrine Master at the recent five-day Year End Mahakala practice, and leads the monthly Karma Pakshi Tsok practice. He is Rinpoche.s personal secretary.
Lama Gyeltsen's Activities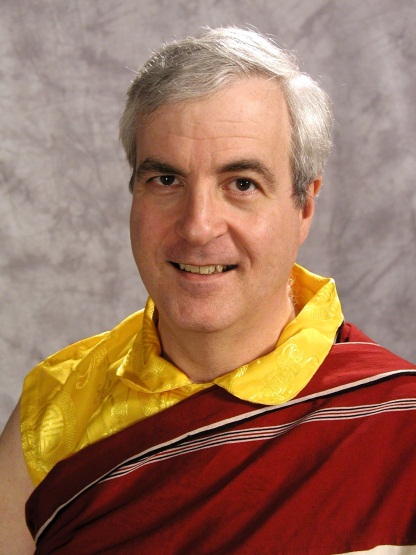 Jay Eilertson, known as Lama Gyeltsen, took refuge from Trungpa Rinpoche and studied under both Trungpa Rinpoche and Lama Lodu Rinpoche. He also has a connection with the previous Kalu Rinpoche and Bokar Rinpoche, and met His Holiness the 16th Gyalwang Karmapa, His Holiness the 17th Karmapa and all the Eminent teachers of the Kagyu lineage. He studied with Lama Lodu Rinpoche further and finally entered Three Year Retreat in 1997. He completed Three Year Retreat according to tradition, and Lama Lodo Rinpoche appointed him to be the lama of the Marin Dharma Study Group. Every Wednesday, he guides the Chenrezig meditation followed by Question and Answer. He is scheduled for teachings at KDK on March 2011 on Bodhicitta and the Bodhisattva Path.