Winter-Spring 2010 News
His Holiness the 17th Karmapa Orgyen Trinley Dorje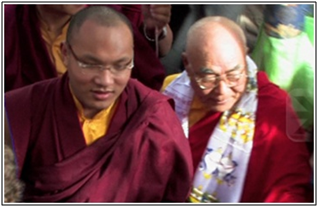 His Holiness the 17th Karmapa Orgyen Trinley Dorje, who resides in Gyuto Monastery in Dharamsala, caused great blessings for people all around the world when he visited the United States last year. His visit caused the turning of many people's minds toward the spiritual path; from knowing him, their minds were tamed to good qualities, which is a great benefit toward themselves and others. His enlightened activity is non-stop and continual. At the same time, we ordinary people need to see and hear him, and that brings much more sense to our immature minds. Previously, he resided in Tibet under Communist rule and lived there for twelve years. However, he realized this severely limited his activity for the benefit of limitless beings. In his home there, he was guarded twenty four hours a day under very close supervision. Even though it would be very difficult to escape from such a place, he was completely dedicated to all beings, and so he risked his life to escape those conditions. It was a difficult journey, having to walk on the snow at night and evading many guard posts along the way. Even for someone accustomed to a hard life, this hardship would be very difficult to bear, but for such a young man accustomed to great luxury it was much more difficult than that. This is the miracle of enlightened beings – no ordinary person can endure such hardship and escape from such a restricted condition. We need to appreciate his kindness and compassion. We, his disciples and students, have to practice what he taught us seriously and with devotion. This will be the way to repay his kindness, and pray for his long life, well-being and the fulfillment of his wishes. He may be going on a teaching tour of Europe this summer – we hope the people there also experience great blessings and enjoy his visit, and pray there are no obstacles or hindrance.
He has composed many books, songs and CD's, and these are available from KTC Woodstock if you are interested. Every year he has a major role at the Monlam Festival in Bodghaya. Many people visit, so if anyone is interested you could go and take part of that ceremony and see him every day. You can join him in aspiration prayers, and from time to time he gives public talks. When he resides in Gyuto he gives a public blessing every other day. If you request a group interview or a private audience with him, he grants that too, but it is very crowded and you have to contact the official people there to request an interview; it is not easy but not impossible. Here is the contact information for the Office of the Karmapa:
Ven. Drupon Rinpoche, General Secretary
Email: gs2karmapa@gmail.com or gs2karmapa@yahoo.com
His Eminence Kalu Rinpoche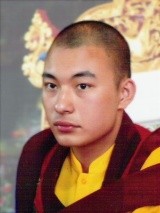 His Eminence Kalu Rinpoche, who came out of retreat September 9, 2008 had a big "Coming Out of Retreat Celebration" at Mirik Monastery, September 9-12. Following that event, Rinpoche departed for Palchen Monastery in Sikkim to meet with His Eminence Gyaltsap Rinpoche. During Kalu Rinpoche's three-year retreat Gyaltsap Rinpoche had given instructions and guidance on each and every sadhana. In appreciation of this profound kindness, Kalu Rinpoche presented a mandala offering and long life prayer for H.E.Gyaltsap Rinpoche.
His Eminence Kalu Rinpoche, leader of the Shangpa Kagyu lineage and founder of Kagyu Droden Kunchab, will be coming to America sometime in 2010. This is his first visit to the United States since he completed the traditional Three Year Retreat. According to the previous Kalu Rinpoche, when one's teacher is coming, we have to prepare our body, speech and mind to receive his blessings. In general, all students should prepare their mind for sincere devotion to the lineage and all the Buddhas and Bodhisattvas, as well as compassion to all sentient beings. This preparation means we have to shift our mind to a new position away from our worldly concerns. The result is that we can receive his blessings and his activity can be fulfilled anywhere he goes, without obstacles or hindrance.
The previous Kalu Rinpoche was always interested in Three Year Retreat, and so he emphasized that for a large town like San Francisco it is important to have a center in the town as a base for people's study and practice of the Dharma. They may not stay there permanently, but by sitting in on sessions they can open their hearts to the path and imprint their mental and physical habitual patterns toward the positive. This is the great benefit in having a center in town that supports daily morning and evening practice. The result of one sitting session while visualizing Chenrezig with the mind, reciting mantras with the speech, and mentally focusing on the sound and deities' form is purification for oneself, as well as others around you who hear and see you practicing and reciting mantras. This in turn creates great merit and plants the seeds of Dharma for newcomers.
Some individuals may have more maturation of their practice from a previous lifetime and come to the center for serious practice. The purpose of the Resident Teacher is to teach them the preliminaries, the basic teachings of the Buddha and turn their mind to Dharma. Then, they begin to practice seriously on the preliminary practices, become more mature and more interested to go further. At that time, the center needs an isolated place where retreatants can go to practice far away from the concerns of the world. For this purpose, Kalu Rinpoche emphasized that the Retreat Land was necessary. As people become more mature, it is the Resident Teacher's job to teach them the traditional Three Year Retreat and train them so that they can pass teachings more comfortably in their native language. When the teacher and receiver both speak the same language natively, this is comforting to newcomers. So, we are keeping this center in town per Kalu Rinpoche's wishes and doing as he taught me. Additionally, I have purchased the Retreat Land and several groups have completed Three Year Retreat there, and in the future when there are enough people ready to go there is an open door.
The second thing Kalu Rinpoche emphasized was the need to build a stupa, especially here in California. He stated that the stupa had four ways of liberating sentient beings: seeing liberation, hearing liberation, contact liberation, and recollection liberation. This extreme benefit can last a very long time, perhaps a hundred or a thousand years, so there is non-stop benefit to sentient beings. People come to see the stupa, they circumambulate around the stupa, and later they remember the qualities of the stupa and finally share these qualities with others. This constant benefit to beings greatly accumulates merit and is non-stop for whoever helps build it, donates materials and time, or gives physical labor, and any contribution is great beneficial. The benefit in this lifetime is good physical health and an expansion of one's life, comfort, joy and peace, and causes the effortless arising of devotion and compassion. This results in a tremendous calm and peace in one's mind and one experiences less obstacles on the spiritual journey and fewer obstacles for fulfilling one's wishes in this lifetime. We have completed eight stupas, and when we have accumulated more donations we can begin construction on one more.
So, I have completed Kalu Rinpoche's wishes, but I will be more than proud to present these stupas to him when he arrives. When we are connected to him strongly, we follow his lead exactly as if he were the previous Kalu Rinpoche and serve him no differently. Please contact us so that we can deliver the message when he arrives; before then, we need your help both physically and materially.
A Successful Year-End Mahakala Practice
The Annual Mahakala Ceremony performed at the end of the year was well done with the support and hard work of all the Sangha. KDK extends sincere thanks for all the Lamas, Donors and Helpers who helped bring in a new decade with ceremony and auspicious prayers for peace in this world.
The Eight Stupas at KDK Retreat Land
Thanks to the Stupa Site Crew!
KDK would like to extend deep thanks to a few people who worked extremely hard to see the completion of the Eight Stupas now on the Retreat Land:
Bruce and Henry are the main actors for executing the construction of the Stupa building. Bruce was there from the beginning, and worked hard as well as contributing time and money along with his wife, Maude. At every moment there was anything to do, they were both present. Samten worked hard by himself to prepare the ground for the foundation. Afterwards, Henry led the crew to lay the foundation. Finally, Ven. Lama Lodu Rinpoche , Khenpo Gawang, Abbot of Nalandtek University, and Acharya Kunzang, graduate of that same university, ceremoniously buried the treasure vases for world peace.
Many of the KDK Sangha, and locals from Willits, and Arcata, Santa Rose and San Francisco contributed. We really appreciate your hard work, but this is there for a long time for the non-stop benefit of all sentient beings and bring peace to all the world.
Craig and Deborah Janke contacted the manufacturers of the marble objects to furnish and bring them to the Retreat Land, and KDK's Board of Directors all harmoniously supported and helped this project. I am thankful to everyone.
Personal Retreats at the KDK Retreat Land
The KDK retreat land was purchased and developed by our Venerable Lama Lodu Rinpoche with one goal: to provide students of the dharma with an environment where they may engage in serious meditation practice in beautiful, silent and sacred surroundings. Much effort went into securing and establishing the facilities, and scores of public teachings, empowerments, retreats, (including two traditional 3-year retreats), have taken place there. Now Lama Lodu Rinpoche has expressed the hope that many people will engage in personal retreats on the land. The daily fee is $20, $10 for KDK members. This stipend covers housing, the use of the community kitchen, bathroom and shrine room, as well as full hiking access to the 160 acres.
(Please note: KDK cannot provide food for your retreat)
Registration for personal retreats is required by calling (707) 984-7038. People wishing to stay on the land for a personal retreat will be given a set of simple rules which we request that they read carefully. Lama Lodu Rinpoche has repeatedly stated that the intention to go on a religious retreat, whether in a group or on one's own, creates vast merit. Carrying out the plan, taking time off from one's daily activities, packing up, making all the necessary preparations, all of this adds to the purification and benefit. We hope that those of you who are interested in pursuing a personal retreat on the KDK retreat land will do so with the knowledge that all your merit joins with the merit of Buddhas and Bodhisattvas past, present and future for the benefit of all beings.
KDK Membership dues
Have you considered paying your KDK membership dues online? Many banks have automated bill paying systems. It is easy to schedule a regular contribution to KDK. Set up your "bill pay" to send payments to: Kagyu Droden Kunchab, 1892 Fell Street, San Francisco, CA 94117. Remember that dues went up last year to $240 for a year, or $120 for six months
Or see the KDK Membership page for other options.